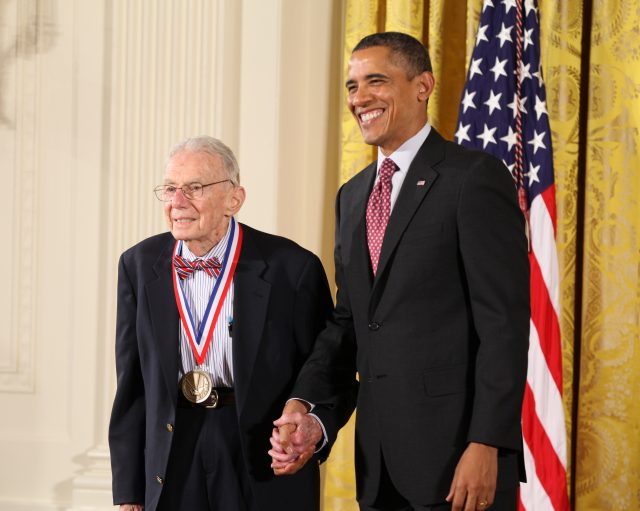 Arthur Hinton Rosenfeld, a close friend to many in the ERG community, passed away Friday, January 27, 2017. He was 90 years old.
"Art Rosenfeld helped make California the world leader in energy efficiency," said Gov. Jerry Brown in a statement. "His path-breaking ideas transformed our energy sector from one of massive waste to increasingly elegant efficiency."
The Berkeley Lab recently released a memorial article covering Art Rosenfeld's achievements in energy efficiency: Art Rosenfeld Memorial Page
The Daily Cal released an article, covering Art Rosenfeld's involvement and contributions for the Berkeley community. Read more here.
New York Times, Arthur Rosenfeld, Zealous Champion of Energy Efficiency, Dies at 90
San Francisco Chronicle, Art Rosenfeld, pioneer in energy efficiency, dies
San Jose Mercury News, Art Rosenfeld, California's godfather of energy efficiency, dies
KQED, Remembering Energy Guru Art Rosenfeld, Father of the 'Negawatt'
Focus Taiwan, Tang Prize laureate Arthur H. Rosenfeld dies
University of California News, Art Rosenfeld, California's godfather of energy efficiency, dies at 90
ABC7 News 5:00 PM, January 27, 2017, Video: News segment about Art Rosenfeld
Video: California Governor Jerry Brown on Art Rosenfeld
ERG students and alumni have been recipients of the Art Rosenfeld Award and ITRI-Rosenfeld Fellowship Award, which support innovative research and honor Art Rosenfeld's pioneering work toward the advancement of energy efficiency.