Give to ERG




ERG has a 40 year history of outstanding research, teaching, policy advice and scholar-activism. Our diverse and creative projects are a result of ERG's unique collaborative culture. These often need innovative and unconventional approaches — in many cases in areas where traditional funding agencies are not yet providing support. ERG has researched and acted on:
environmental toxics
global change ecology
power systems analysis
renewable energy deployment
sustainable urban planning
environmental and climate justice
biofuels and land use change
financial tools for low-carbon economies
the economic and "social cost" of carbon
safe water and sanitation in the developing world
We need your support to further ERG's fundamental as well as policy-relevant research. Two student fellowship funds, the Birdsall and the Farrell Funds, enable innovative student projects, as does the ERG Chair's Fund. In addition, ERG proposes to create new endowed faculty positions, and to develop named student fellowships, in particular for international student support and to enable student diversity.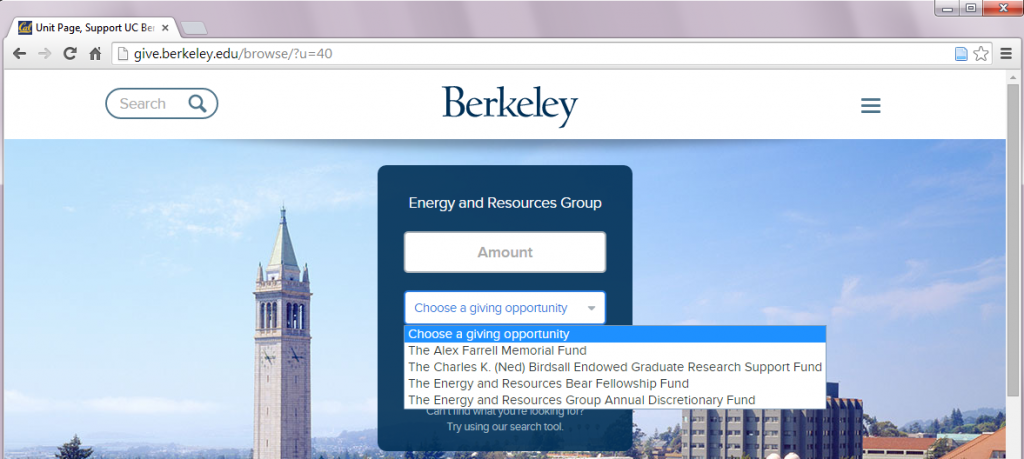 We ask you to consider pledges for regular giving to ERG, capital and endowment gifts, or directing funds to students or topical areas of particular interest to you and your professional circles:
For more information on giving to ERG please contact Bernadette Powell at (510) 643 9903.
Thank you!