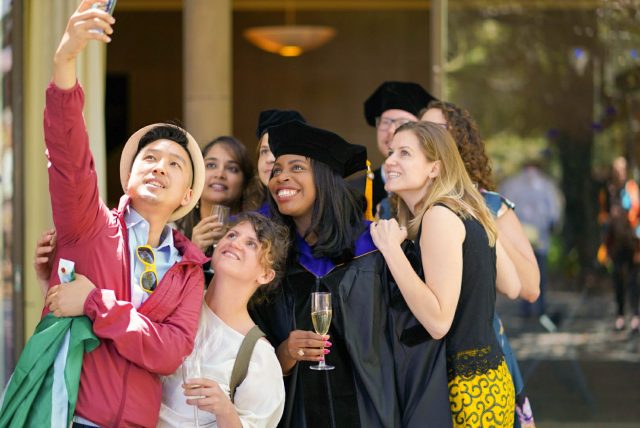 Diversity, equity, and inclusion (DEI) at ERG
Equity and inclusion are at the heart of our mission to provide education and research for a sustainable and just society. We aspire to be an inclusive community with diverse ideas, races, ethnicities, genders, sexual orientations, ages, abilities, and socioeconomic backgrounds. We celebrate diversity in scholarship, teaching, community life, and public engagement. We also hold ourselves accountable to
our equity and inclusion goals
through reflection and open dialogue amongst students, faculty, and staff.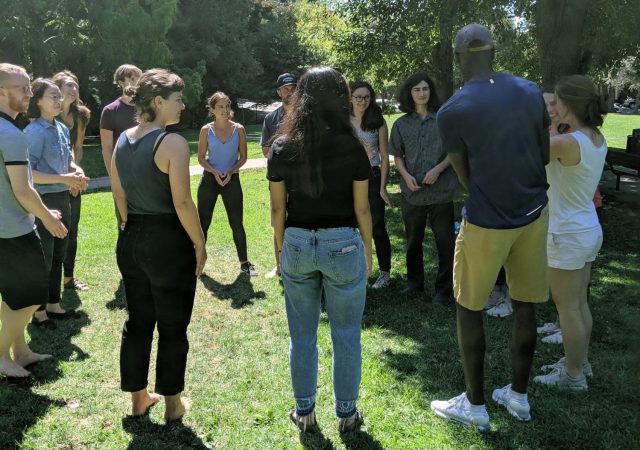 ERG's 2019 cohort participating in a student welcome and orientation day. (Elmallah, 2019)
ERG Diversity Committee
The ERG Diversity Committee is our departmental standing committee in charge of overseeing diversity within ERG. The ERG Diversity Committee, in consultation with students, staff, and faculty, developed the
2019-2024 ERG Strategic Plan for Equity, Inclusion, and Diversity
.
Per ERG's by-laws, the committee's responsibilities are to:
"ensure a climate of equity and inclusion that fosters diversity; develop and monitor ERG's Strategic Plan for Equity, Inclusion, and Diversity; expand strategies for attracting and retaining a diverse faculty; seek means to increase the diversity of students in ERG; ensure diverse representation and inclusion of graduate students on search and selection committees; and seek other opportunities to bring a diversity of individuals into ERG teaching and research programs."
The committee is composed of a chair selected from the core faculty, two student members, the ERG manager, and one or two members of the ERG core faculty and/or affiliates. Student representatives volunteer or are nominated and rotate through time. The committee meets at least once per semester and more frequently as needed. Current committee members include:
Lara Kueppers

, Committee Chair, core faculty member, and ERG Equity Adviser
Meg Mills-Novoa, ERG-ESPM faculty member
Amanda Okamoto, ERG Manager, ex-officio
Jasmine McAdams, Student Representative
Kwabena Owusu Sarfo, Student Representative
Please reach out to
Lara Kueppers
or
Amanda Okamoto
if you have questions or are interested in serving on the ERG Diversity Committee.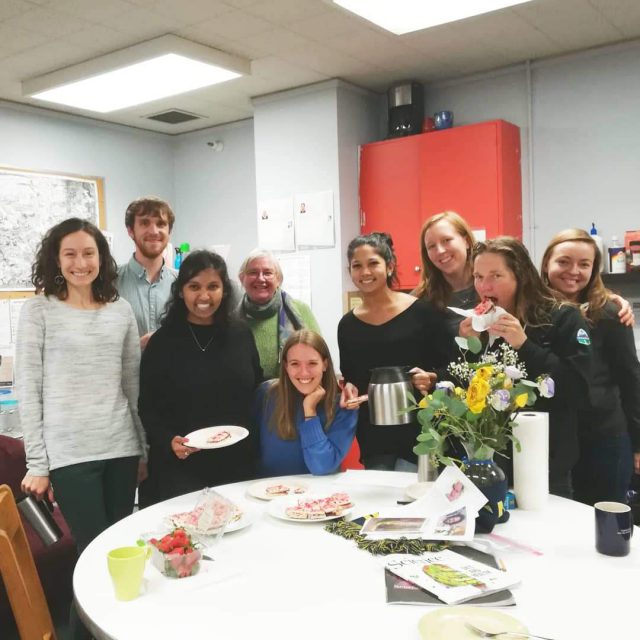 ERGIes build community together through ERG Tea, where students, staff, and faculty gather for tea, treats, and conversation twice a week. (Elmallah, 2019)
Student-led groups at ERG
Student-led groups at ERG related to DEI include the ERG Student Advocacy Committee for Equity and Inclusion (SACEI), ERG Women, and QuERGies. Additional DEI efforts have included informal language-based gatherings (e.g., Mandarin, French, Spanish), biennial department climate surveys, Visit Day and
Diversity Day
for accepted students, peer mentoring for accepted and new students, DEI workshops, and BIPOC and diversity potluck dinners, providing safe spaces off campus.
Student Advocacy Committee for Equity and Inclusion (SACEI)
SACEI (pronounced säkē) is a student-led group that advocates for and supports initiatives to promote and improve equity, inclusion, and diversity within ERG and beyond. SACEI activities include coordinating a peer mentoring program alongside ERG staff, assisting with the annual ERG climate survey, advising the Admissions Committee in recruiting and reaching out to underrepresented applicants, representing ERG at admissions fairs and other events, organizing DEI trainings, and liaising with the graduate student union. Current students can join
here.
ERG Women
This student group holds potlucks and other get-togethers where ERG women can connect with other women students and discuss issues that are important to women and femmes in academia, including trans and gender non-conforming folks. Current students can join
here.
QuERGies
QuERGies is ERG's queer student and alumni network. We are primarily a social group, hosting events throughout the year to create safe and welcoming spaces for LGBTQ+ students at ERG. We also help other ERGies be more inclusive of LGBTQ+ people. Current ERGies and alumni can join
here
.

Equity and inclusion banners in Sproul Plaza — a project initiated, designed, and temporarily installed by the ERG SACEI. (C. Hyun 2017)
Diversity of scholarship
Research
ERG encourages a variety of research topics and approaches as part of our commitment to diversity and inclusion. We work to create research environments that are inclusive and respectful of different perspectives and approaches. The videos below are examples of the far-ranging and interdisciplinary research we do at ERG. Find more ERG spotlights
here
. Here are a few ERGie papers related to our joint mission of research for a sustainable environment and a just society:
Coursework
At ERG, we work to create inclusive classrooms and we value freedom of expression and dialogue. ERG students can take a wide range of courses as part of their Master's and/or PhD studies. Here are several ERG courses that explicitly discuss equity, inclusion, and diversity, and which students have taken to fulfill
ERG Master's course requirements
.
ENERES 98/198 – Energy DeCal
ENERES 175/275 – Water and Development
ENERES 180/280 – Ecological Economics in Historical Context
ENERES C271 – Energy and Development Doctoral Seminar
ENERES C283 – Information and Communications Technology for Development
ERG students can also take courses on equity, justice, diversity, and inclusion offered by other departments to fulfill ERG course requirements and electives.
Funding Opportunities
ERG supports students in finding funding for their research and scholarship. ERG faculty and staff work with students to identify funding opportunities, such as:

Students enjoying an art corner at ERG's second-annual Multicultural Day, a community-building potluck that gives ERGies a chance to share their culture and cuisine with each other (Elmallah, 2019)
ERGies supporting a cost of living adjustment as part of the COLA4All campaign.
Cecilia (then an ERG Master's student) and Pierce (then an ERG PhD student) present about the Data & Diversity course at a workshop. (Life@ERG, February 2016)
Additional resources and readings
Related Life@ERG blog posts 
Campus resources 
Articles Resources Related to Equity, Inclusion, and Diversity