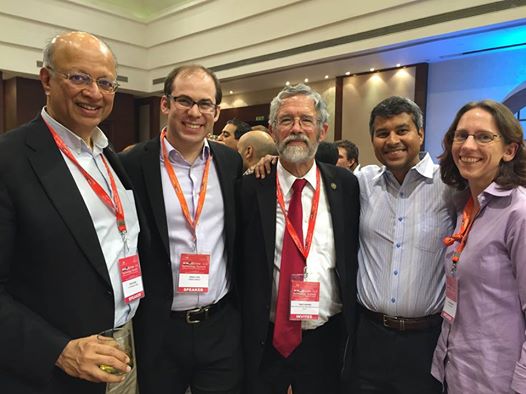 Three generations of ERGies cross paths at the India-US Science and Technology Summit in New Delhi. The above photo includes (L-R) Dr. Ashok Gadgil (ERG Affiliated Faculty), Dr. Joshua Apte (MS'08,PhD'13), Dr. John Holdren (ERG Co-Founder), Dr. Anand Gopal (PhD'11) and Dr. Susan Amrose (Lecturer, UC Berkeley).
Dr. Holdren led a White House delegation to the Indo-US Technology Summit in New Delhi on November 18-19. He spoke at the inaugural session on "Tackling 21st Century Challenges Together." Drs. Gadgil, Apte and Amrose presented their various work with Lawrence Berkeley National Laboratory and UC Berkeley at the Summit.
About the Science and Technology Summit:
The objective of this annual flagship event is to facilitate technology transfer, joint ventures, joint R&D, joint projects, and joint market access between India and the partner country's industry, research institutes, and academic institutions. This event has emerged as the largest technology event in India with widespread participation from the highest level of government, industry and academia. The United States is the partner country for this year's 20th edition of the Technology Summit & Technology Platform.