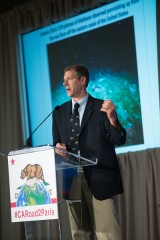 ERG Professor Daniel Kammen was quoted in Science Magazine and National Public Radio regarding Obama's Clean Power Plan:
"The new plan also includes incentives for deploying energy sources that don't rely on fossil fuels—highlighting the need for the United States to sustain a broad portfolio of renewable energy research, says Daniel Kammen, director of the Renewable and Appropriate Energy Laboratory at the University of California, Berkeley. For example, he says, a major research push is still needed on solar energy, including better ways to store solar power generated during the day so it can be used later.

The plan also highlights the need for researchers to improve so-called life cycle assessments of the impact of natural gas-fired power plants on greenhouse gas emissions, Kammen says. Gas has been rapidly supplanting coal as the fuel of choice for producing electricity in the United States, and the new plan is expected to boost that trend. One oft-cited benefit of such switching is a 50% reduction in greenhouse gas emissions. But that is based on the assumption that gas pumping and transportation systems don't leak, Kammen says. 'The key need here is careful monitoring of not only gas plants, but the pipelines, wells, etc.,' he wrote."
Read the article in Science Magazine here.
Read the article in National Public Radio here.