Emily Woods (M.S. '16) took 2nd place in the 'Scaling up Big Ideas' category with her project 'Feces to Fuel.'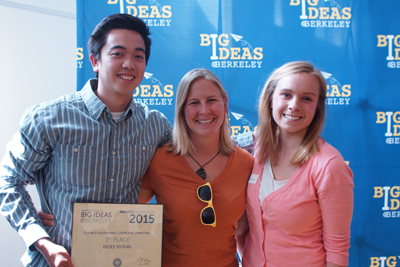 Feces to Fuel is pioneering a project that unlocks the potential of human feces and other waste streams by transforming them into an affordable household cooking fuel. Sanivation provides in-home toilets to low-income households and a service to collect and treat human waste. The project aims to create charcoal briquettes from human and agricultural waste. These briquettes can be sold for less than conventional charcoal and produce less smoke than traditional household cooking fuels. This in turn reduces the users' exposure to toxic fumes and indoor air pollution. Simultaneously, the briquettes have a lower carbon impact than traditional fuel. They offer a renewable energy source that reduces greenhouse gas emissions and deforestation by the charcoal industry. Additionally, these briquettes have the potential to be successful in the market and provide revenue needed to complete Sanivation's waste reuse business model.
Read the announcement here.
Learn more about Emily Woods (M.S. '16) here.