As the November 6, 2018 midterm elections approach, the Energy and Resources Group faculty, students, and alumni are taking action to increase voter participation. We encourage all voices to be heard in our democracy, and invite all to vote to support leaders and policies that lead to a sustainable environment and a just society.
Voting for a Just Transition – Dan Kammen: Read Professor and ERG Chair Dan Kammen's post in the Berkeley Blog on the importance of student participation in this year's midterm elections.

"The clean energy opportunity is aligned with core values — at least those stated on paper — by both the Democratic and Republican parties. Instead of one of the few places for bipartisan action, however, it has become an area where even the most basic facts are endlessly debated… By reaching out to fellow students, parents, and friends both across California and across the country [students can] highlight how doubling down on equitable clean energy projects offers a rare and genuine "win-win" at a time when the country is more divided than ever."

Voter Registration and Canvasing

Master's and PhD students Gordon Bauer and Margaret McCall have been traveling throughout California to canvas for congressional as well as state Senate candidates.
Master's student Sara Mulhauser has been working with the organization California Away Team since 2017 to sign up non-registered voters, and convince registered voters to participate in the midterm elections. "So far we have 'reactivated' more than 1,000 voters through this process… we also produce thousands of homemade post cards that we send to more remote voters that we can't realistically knock on doors. We do this for other important races outside of California."

Empowering Female Voters

Master's/PhD student Gauthami Penakalapati has been involved with the organization Post March Salon since last February. They are active in getting out the vote in the Bay Area and highlighting flippable districts.

Berkeley Campus and Community

PhD student Adam Orford has been providing support for the ASUC Graduate Assembly to promote voter participation through student events on the UC Berkeley campus. Orford also co-authored an opinion piece on Berkeley city council policies and their impact on housing prices.

Getting Out the Vote – ERG Alumni

ERG alumni have been actively canvasing and working with NextGen, an organization that focuses on registering, motivating, and turning out young voters.
Richard Norgaard (ERG Professor Emeritus) and Nancy Rader (MS '92) recently hosted a gathering for a state assembly candidate.
Collectively, 17 ERG alumni and faculty wrote and sent over 300 letters and 50 postcards in order to mobilize voters (pictured).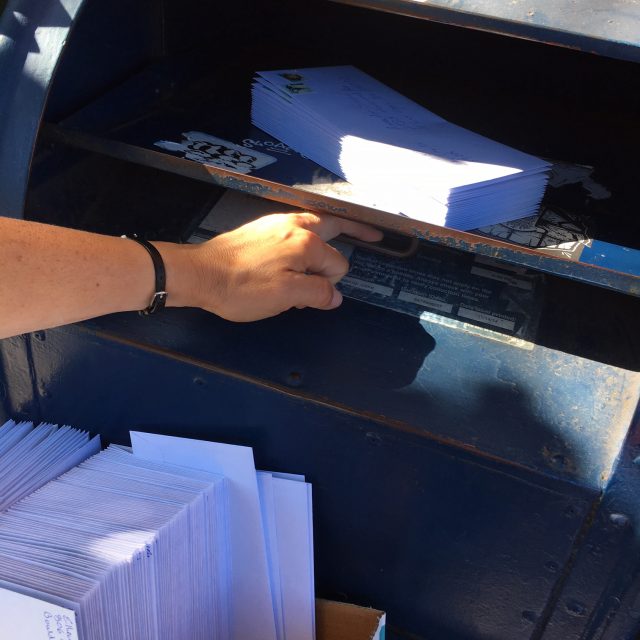 Resources for Voters:
Look into local volunteer opportunities in your community as well.
Continue to check back here for more information. This page will be updated throughout the 2018 election season.