Many of the billion people living in informal settlements and "slums" worldwide face persistent inequities in access to electricity. Recognizing the scale of urban energy access challenges, and the scarcity of work on informal urban settings within the larger body of research around Sustainable Development Goal 7 ("ensure access to affordable, reliable, sustainable and modern energy for all"), Spotlight Kampala is a research initiative with the objective of providing large-scale quantitative data, contextualized with deep qualitative work, on energy access.
The project currently works with 25 communities in Kampala, Uganda.
Spotlight Kampala is a women-led, multidisciplinary team of engineers, geographers, urban planners, and civil society advocates. The project team was built intentionally to reflect a diverse
set of academic and advocacy partners to ensure that the findings of the study can catalyze
local action. Within UC Berkeley, the lead institution of the project, Spotlight Kampala is led by
Jessica Kersey, PhD student in the Energy and Resources Group (ERG), and Prof. Dan Kammen, Lau Distinguished Professor of Sustainability.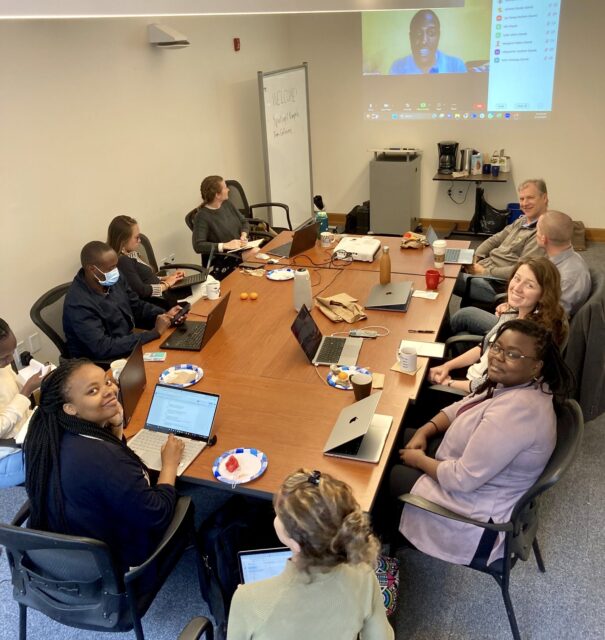 From May 8-15, Spotlight Kampala held a week-long conference at UC Berkeley to progress joint work under the initiative. Judith Mbabazi and Paul Kyoma traveled from Kampala, Uganda to attend as part of a Mastercard Foundation Faculty Seed Grant awarded to ERG's Professor Kammen and Makerere University's Professor Mukwaya. Colleagues from the University of Arizona, University of Massachusetts Amherst, the University of Washington, and the University of West Virginia were also in attendance. The group held daily planning sessions at Giannini Hall to align on a shared problem and impact statements, discuss early findings and recommendations, and plan for future phases of dissemination work.
On May 15th, the team hosted a seminar on campus in collaboration with the UC Berkeley's Center for African Studies, where they discussed the challenges of electricity access in informal urban settings, experiences with participative approaches to data collection, and shared early findings. Specific attention was paid to methodological innovation, which combines traditional social science research with remote monitoring, and the benefits and challenges of collaborative, team-led approaches. In addition to conference activities, the Berkeley and Kampala based team enjoyed trips to San Francisco and South Lake Tahoe. 
In the upcoming phase of work, the team will reconvene in Kampala from June-July 2023 to hold community forums in each of the 25 communities that participated in the research. On July 26, they will also host a stakeholder engagement workshop with leaders from the government, regulator, and utility, and community representatives. The objective of these activities is to identify, evaluate, and prioritize a set of potential solutions to improve the inclusivity of electricity access in Kampala.