ERG ANNUAL LECTURE: Jonathan Foley
April 9, 2015 @ 6:00 pm

-

7:00 pm

PST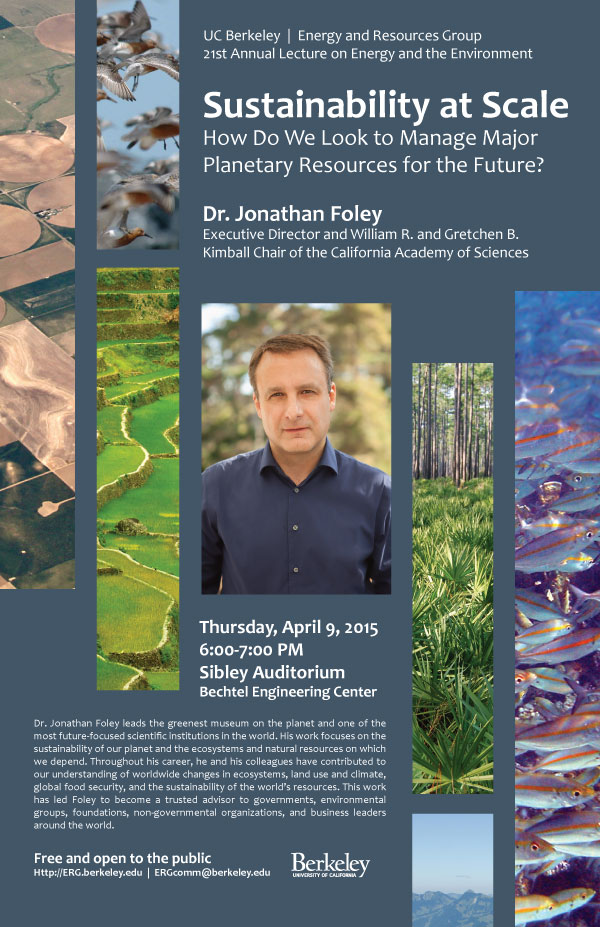 The Energy and Resources Group presents the 21st Annual Lecture on Energy and the Environment
SPEAKER
Dr. Jonathan Foley Executive Director and William R. and Gretchen B. Kimball Chair California Academy of Sciences
TITLE
Sustainability at Scale: How Do We Look to Manage Major Planetary Resources for the Future?
Dr. Jonathan Foley
leads
the greenest museum on the planet
and one of the most future-focused scientific institutions in the world. His work focuses on the sustainability of our planet and the ecosystems and natural resources on which we depend. Throughout his career, he and his colleagues have contributed to our understanding of worldwide changes in ecosystems, land use and climate, global food security, and the sustainability of the world's resources. This work has led Foley to become a trusted advisor to governments, environmental groups, foundations, non-governmental organizations, and business leaders around the world. This event is free and open to the public.