News & Events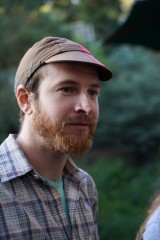 ERG grad­u­ate stu­dent, Joe Rand, has received the Novus Ven­tus Award from the U.S. Depart­ment of Energy's Wind Pro­gram. The award rec­og­nizes an indi­vid­ual who has made an impact and demon­strated com­mit­ment to wind advo­cacy within a rel­a­tively short career.
The award was pre­sented at the DOE's WINDEx­change Sum­mit in Orlando on May 18, where Joe's pre­vi­ous work with Kid­Wind, the North Amer­i­can Board of Cer­ti­fied Energy Prac­ti­tion­ers, the NC Wind Appli­ca­tion Cen­ter, and his cur­rent research with Lawrence Berke­ley National Lab (LBNL) on pub­lic accep­tance of wind power was high­lighted. Joe also chaired a panel with Eric Lantz and Ryan Wiser of LBNL to dis­cuss state and regional data in the Wind Vision at the Summit.
For more infor­ma­tion on the Sum­mit, read more on the DOE's web­site here.