THIMBY House Project Is Well Underway!
The Tiny House in My Backyard (THIMBY) is an interdisciplinary team of UC Berkeley graduate and undergraduate students working together to design and build an affordable, off-grid, 100% solar-powered "tiny" house. The construction of their first "tiny" house began on May 23rd when the support for the unit's water tanks was established. Since then, the […]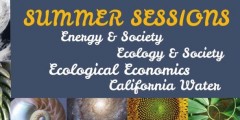 ERG Summer Courses Available
ERG is offering four of its most popular courses this summer! Enroll Today!
NSF & More ERG Awards: Switzer Fellowships
3 current Switzer fellows, 2 more NSF fellows, and more. See the list of awards ERG students have received.