Diversity, Equity, and Inclusion Goals, Planning, and Action


Equity and inclusion banners in Sproul Plaza — a project initiated, designed, and temporarily installed by the ERG Diversity Student Committee. (C. Hyun, January 2017)
Equity, inclusion, and diversity (EID) planning at ERG
The mission of ERG is a sustainable environment and a just society. ERG actively promotes intellectual, racial, ethnic, and gender inclusion. To accomplish this, ERG researches the impacts of equality and inequality and celebrates diversity in our community through scholarship, self-reflection, community life, and public engagement. Under the ERG by-laws, the Diversity Committee officially oversees equity, inclusion, and diversity (EID) in the department. Beyond this, the ERG community includes a variety of student groups, resources, and continued efforts for equity and inclusion. Look through this page to find out more. Also, look for more resources on this page in the future.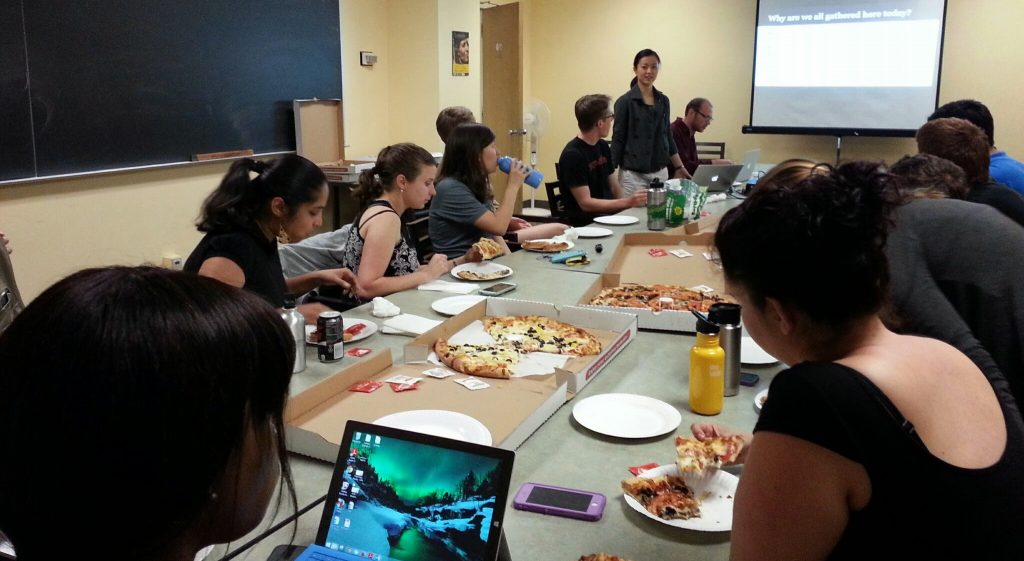 Reviewing the initial results of ERG's first diversity survey by the ERG Diversity Committee. (C. Hyun, May 2015)
ERG Diversity Committee
The ERG Diversity Committee's responsibilities include: to ensure a climate of equity and inclusion that fosters diversity; develop and monitor ERG's Strategic Plan for Equity, Inclusion, and Diversity; expand strategies for attracting and retaining a diverse faculty; seek means to increase the diversity students in ERG; ensure diverse representation and inclusion of graduate students on search and selection committees; and seek other opportunities to bring a diversity of individuals into ERG teaching and research programs. This committee is composed of a chair selected from the core faculty; one or two members of the ERG core faculty and/or affiliates; two student members; and the ERG manager (ex-officio). The committee meets at least once per semester and more frequently as needed. Please let Prof. Isha Ray or Megan Amaral know if you are interested in being involved in the ERG Diversity Committee. The current committee includes:
Student-led groups at ERG related to EID
ERG Diversity Student Committee
This is a student-led group, supporting and initiating programs alongside and beyond the ERG Diversity Committee. Our mission is to initiate and continue dialogue about diversity, equity, and inclusion at ERG. Activities include: conducting phone, Skype, email, or in-person recruitment during admissions season and throughout the year; assisting the Admissions Committee in reaching out to diversity candidates during the admissions process to encourage completion of applications; representing ERG at various admissions recruitment fairs and other related events; organizing diversity trainings for all of ERG; and organizing external diversity-related events. The committee is open to current ERG graduate students. Find more information to join here.
ERG Women
ERG Women facilitates potlucks and other get-togethers (typically monthly) where ERG women can connect with other women students and discuss issues that are important to women in academia. New students will be invited at the beginning of the year once potlucks resume.
QuERGies
Established in the Summer of 2014, QuERGies is ERG's queer student and alumni network. We are primarily a social group, hosting events throughout the year to create safe and welcoming spaces for LGBTQ+ students at ERG. We also intend to help other ERGies be more aware and inclusive of LGBTQ+ people. QuERGies is open to ERG graduate students and alumni. Go here for more information and to join.
Language-based gatherings (e.g. Mandarin, Spanish, etc.)
Look for announcements about gatherings or start your own.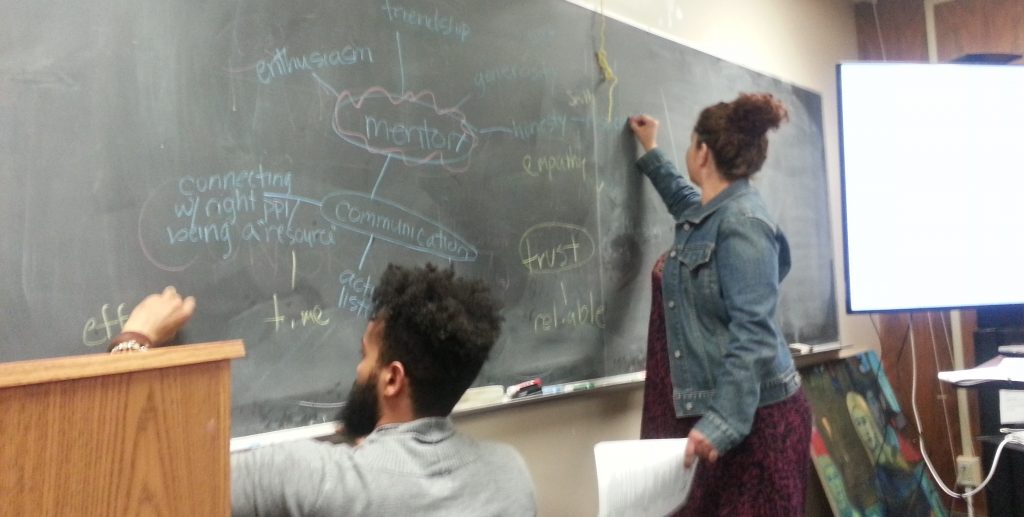 Planning for ERG peer mentoring by the ERG Diversity Student Committee. (C. Hyun, May 2016)
Current efforts at ERG related to EID
Biennial Diversity Surveys at ERG (ERG Diversity Committee and student-led effort)
Visit Day weekend and Diversity Day for accepted students (ERG and University staff)
Peer mentoring for accepted and new students (ERG staff and student-led effort)
EID Workshops (Student Diversity Committee, ERG Diversity Committee, and ERG staff)
Diversity dinners (student-led effort)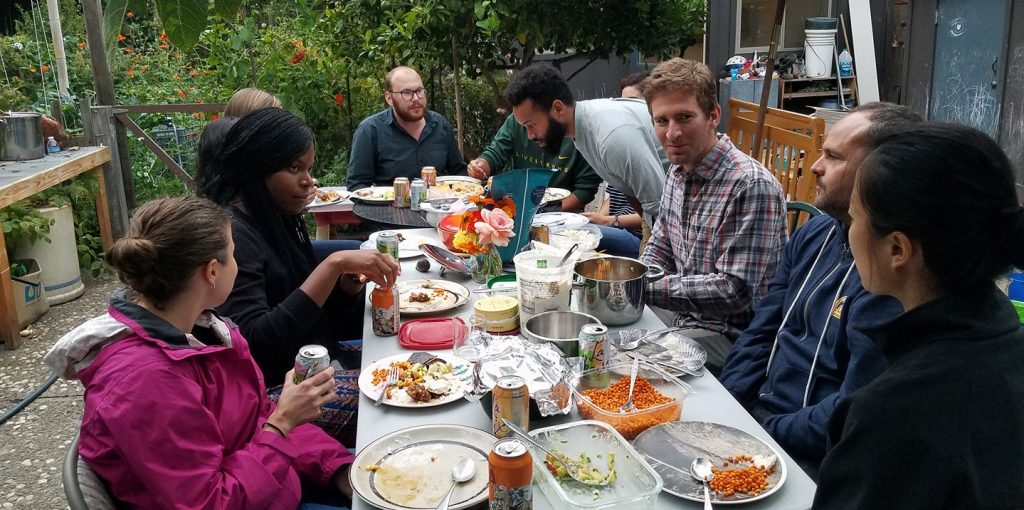 ERG diversity dinner (S. Karasaki, September 2017)
Diversity of research
Along with social diversity and inclusion, ERG strives for interdisciplinary, diversity, and equity in research topics and methods. We value freedom of expression and dialogue and we work to create classrooms and research environments that are inclusive and respectful of different perspectives and approaches. The videos below are examples of ERG student research. Find more ERG spotlights here.
Coursework related to EID
ENERES 98/198 – Energy DeCal
ENERES C100 /C200 – Energy and Society
ENERES 175/275 – Water and Development
ENERES 180/280 – Ecological Economics in Historical Context
ENERES 201 – Interdisciplinary Analysis in Energy and Resources
ENERES C271 – Energy and Development Doctoral Seminar
ENERES C283 – Information and Communications Technology for Development
Life@ERG blog posts related to EID

Cecilia (then an ERG Master's student) and Pierce (then an ERG PhD student) present about the Data & Diversity course at a workshop. (Life@ERG, February 2016)
Campus resources related to EID
Articles related to EID, environmental resources, and academia